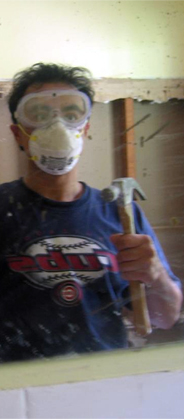 artist statement
All the pieces tell a story. All the graphic information supports the narrative derived through the act of contemplating the relationship, shared experiences, and certain commonalities between subject and artist. Usually these graphic images are developed through a series of loose associations and as a result trigger a vague sense of some set of ideas. In the end, the initial narrative is not important. It is the lingering residues that matter. It is the impression of some insight into a person or place's story that allows one to freely explore and interpret it. And by this process establishes the connections to make the story one's own.
artist bio
Basil Seymour-Davies's paintings have been exhibited in numerous solo and group exhibitions in the Mid-South, including the Baton Rouge Center for Contemporary Art in Louisiana; Moxy Studios Art Gallery in New Orleans; and the Fort Smith Art Center in Arkansas.
Basil decided to pursue a lifelong interest in oil painting in 2002. He completed his BFA in painting and art education from the University of Arkansas, Fayetteville, in 2006.
He was born in Phnom Penh, Cambodia, from European and Asian descent. He and his family left the country one of the last commercial flights out, at the age of 2, just months before the brutal regime of the Khmer Rouge invaded the capital city. He currently resides in Fayetteville, Arkansas.